Machine Quilting Pricing
Do you have "pieced" quilt tops lying around without the time or patience to quilt them? I can help! Just get those quilt tops to me and I can quilt them for you in approximately 4 to 6 weeks turn-around time.
The fee for general overall quilting (edge-to-edge) on your quilt top is $0.025 per square inch ($0.04 for custom quilting). You provide the batting, backing and your pieced top.
(Note: Please submit the batting, backing and quilt top to me in THREE separate pieces! I will place them on my frame for the quilting process!) Then it will be returned to you to attach the binding.
Pricing for overall quilting
(Edge-to-edge quilting)
(Minimum $90/quilt):
Baby Size Quilt Top (or smaller) = 60″ x 60″ x .025 = $90.00
Twin Size Quilt Top = 72″ x 60″ x .025 = $108.60.00
Queen Size Quilt Top = 90″ x 90″ x .025 = $202.50
King Size Quilt Top = 100″ x 100″ x .025 = $250.00
The above pricing are estimates for overall edge-to-edge meandering quilting. If you require more intense (custom) quilting for your pieced top, please check with me for specific pricing.
There is a $20 charge for seaming together the backing you provide (if you are not able to seam it and have it ready for the quilting process). There is an additional $25 charge for turning the quilt on the frame to custom quilt borders.  Thread charge (includes top and bottom thread) is $1.00 per bobbin.
Batting prices (purchased from me):  $20 Baby; $30 double; $35 Queen; $42 King
If you choose to have me bind your quilt, the cost is $30 for Wall/Twin size; $45 Double/Queen Size; and $55 for  King size quilts. You will supply the fabric for the binding; I will measure, cut, prepare the binding, sew it to the quilt and then finish it by hand sewing it to the back of the quilt.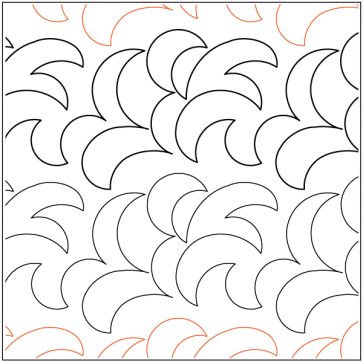 Another Pattern
Description goes heres